Forget "15 minutes could save you 15% on car insurance." This popular insurance advertising meme makes me want to ask wouldn't your customers prefer to save not only more time and money, but the effort also? This is precisely the new value that is being achieved with new digital engagement technologies, and customers like it.
EIS demonstrated the power of web and mobile apps and AI to deliver a far more frictionless customer journey than is currently expected by consumers at the recent Dig|In conference hosted by Digital Insurance magazine as well as at the IASA 2017 conference. The response exceeded expectations.
But, it shouldn't have. According to a new report published by Celent, large numbers of customers now prefer smart tech over human contact (37%) or are open to test it for the first time (21%). Given this information, it is not surprising in hindsight that our zero data input policy quote/buy/issue and the bot-enabled claim had many insurers inquiring "how do you do that?"
The key is a fully digital front-end supporting the full customer lifecycle that is itself easily connected to external sources and a supportive core system. This is provided with EIS' Digital Experience Platform (DXP™) – for the web and mobile digital experience – and EIS Suite® – providing policy, billing, claims and customer management transactions – with the leverage of Microsoft Azure LUIS services for AI capabilities, and Microsoft Bot Framework for chatbot services.
Policy quote and issue: an end to endless thumbing
A picture is worth a thousand words–or data points in this case. For thumbs that are quickly tired or are error-prone, here is the answer. The demo started with a consumer–we will call him Daniel–scanning his license using a responsive web app for a quick quote.  From this picture, leveraging a data standard used by over 30 states, the app retrieves the vehicle data and the names of drivers at the vehicle address.
Three quotes are provided and Daniel is able to tweak the one he prefers via a few screen touches. Payment is via Apple Pay from an iPhone and a thumbprint issues the policy.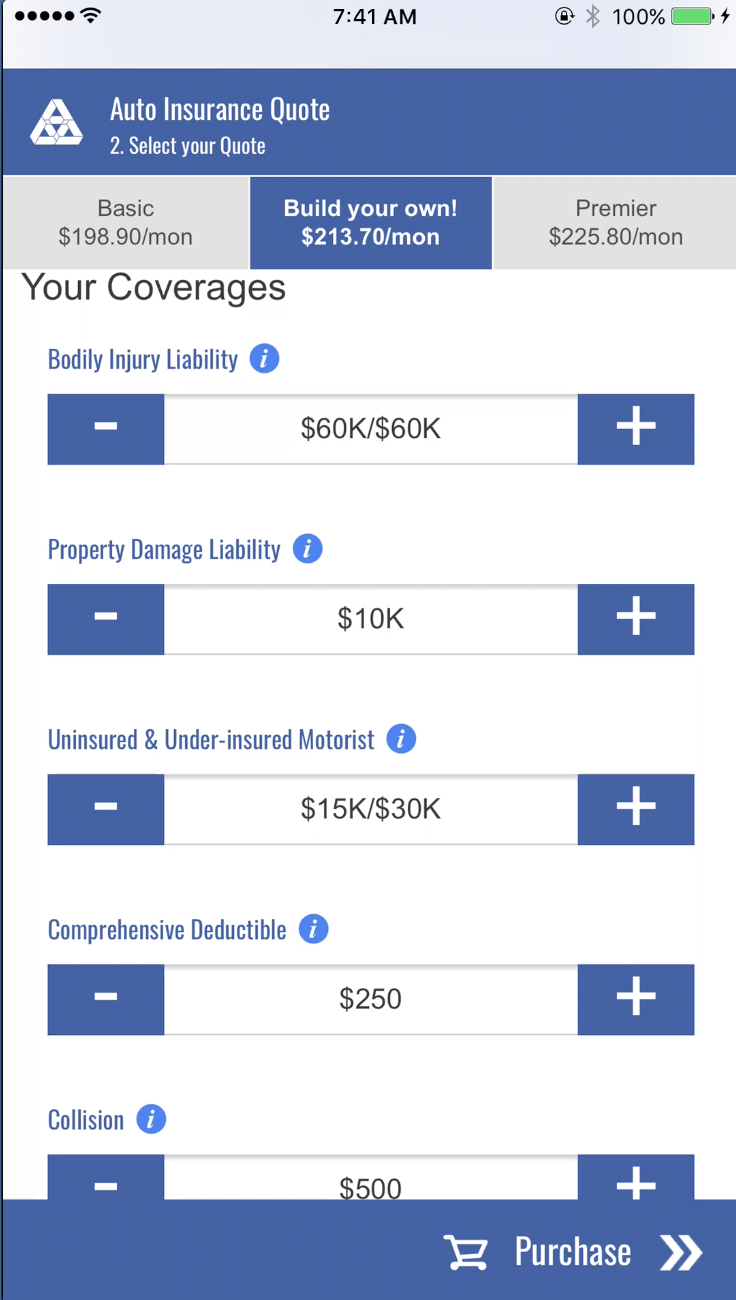 Lowering the minutes, raising the bar
Completed in a few minutes, the demo showcased technology common in other industries but not often used for something as complex as buying an auto insurance policy. And flourishes like the ability to hover over coverages to see a description in language that is easy to understand, help smooth the process.
Now a customer, Daniel has access to the DXP self-service app and can view his insurance card, payment history, coverage documents and even update his policy among other actions.
"My name is Jackie, have you had an accident?"
Unfortunately, not long after, Daniel has an incident on the way to work. No problem. Daniel initiates a claim on the mobile app. Jackie the smart bot asks Daniel a few simple questions to get the claim started. As a virtual agent, Jackie has been trained to recognize a large vocabulary of claims-related phrases to move the claim process forward. The claim app also has full access to native phone capabilities – such as GPS – to derive data and simplify the process.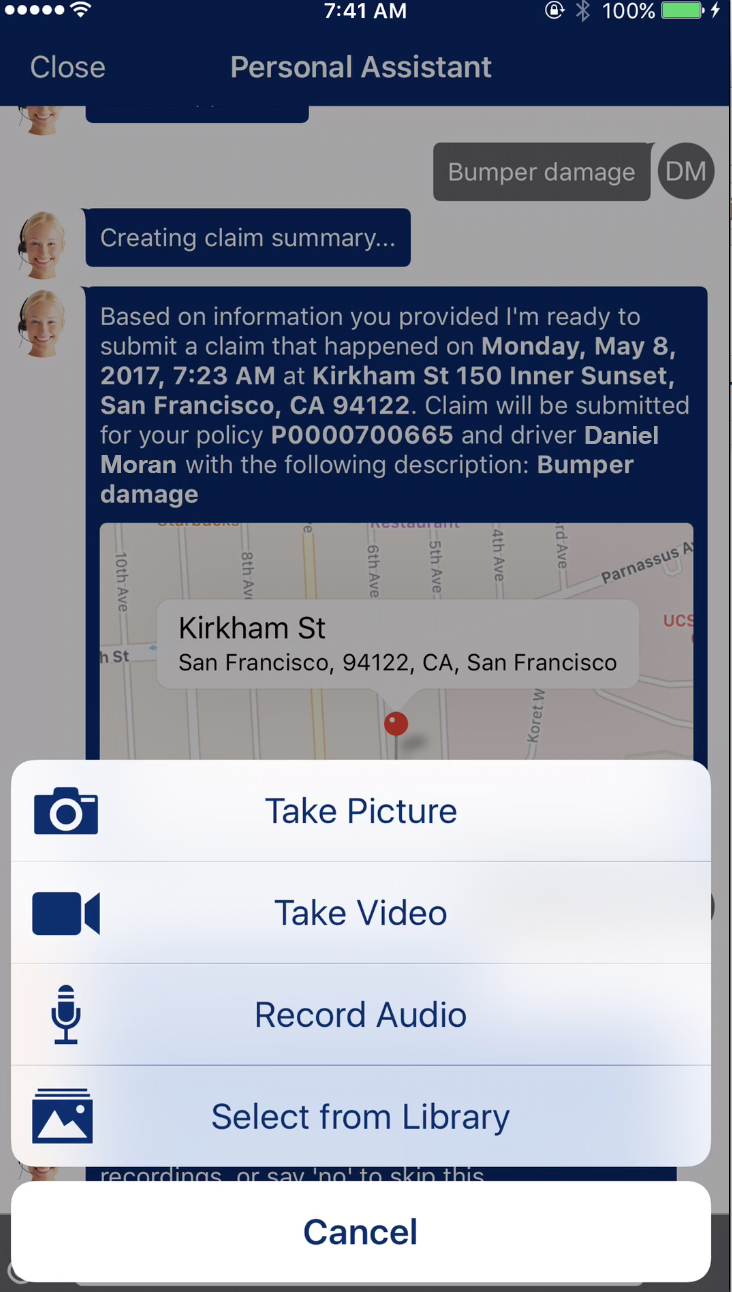 Once Daniel has completed the claim, Jackie gives him his claim number. But, Daniel decides he wants to speak to a live agent to complete his journey. Easy. Because EIS Suite and DXP are integrated with contact center software and Twilio, Daniel simply presses the "Call My Agent" button on his phone and his agent or claim representative answers the phone – in context – with all claim details showing on the agent's screen.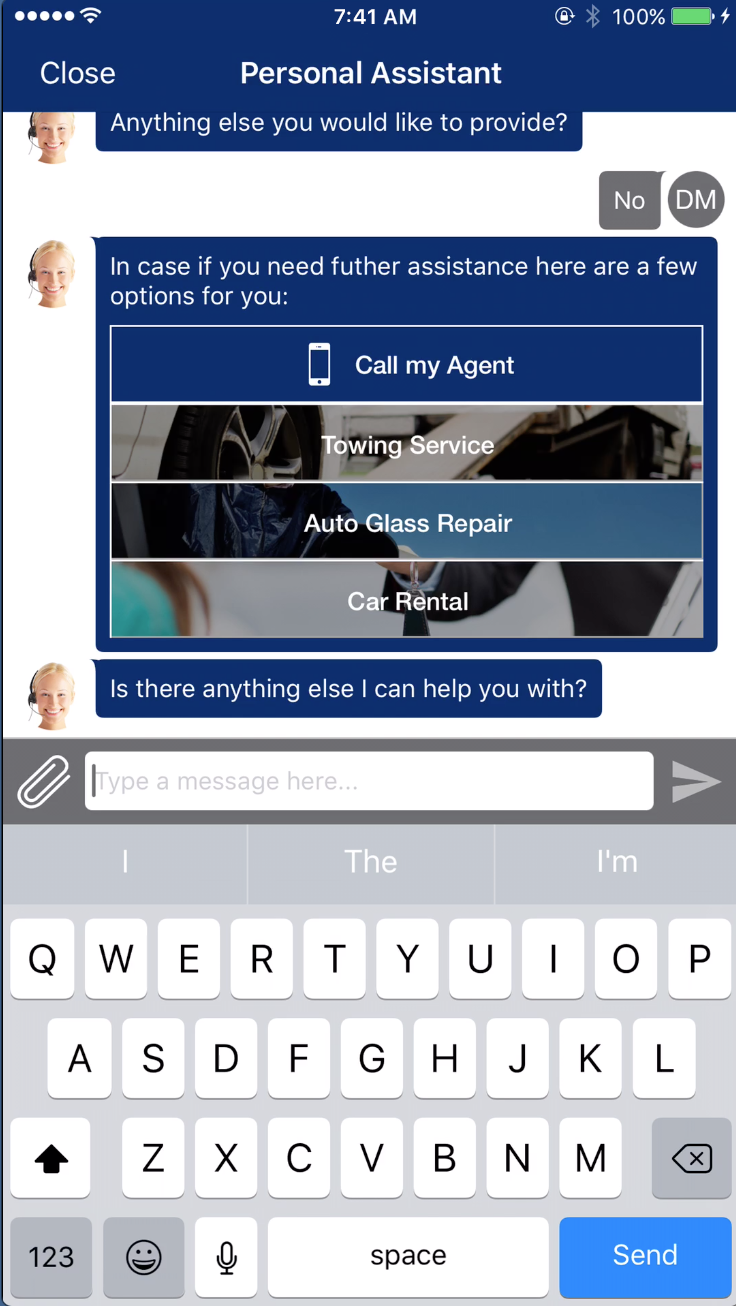 What you have witnessed is a full and fast omnichannel process for Daniel that moved from responsive web app to mobile app to contact center. The quote and issue required zero data and the claim was aided by a personable chatbot. This represents real progress for insurance customers.
Using conversation as the new UI
Integrating chatbots and AI into digital apps introduces something customers crave: to use conversation as their interface. Jackie may be new at this, but her potential to listen and engage with customers is unlimited.
Going forward, EIS and our customers will leverage DXP's integration with Microsoft Bot Framework to build and connect more bots to customer communication channels and add cognitive skills that enable them as digital agents to see, hear, interpret and interact with users naturally wherever they are.
Keep digital close to your core system for success
The demo underscored a distinct advantage unified digital and core solutions have over front-end only digital solutions. DXP is pre-integrated with a comprehensive set of RESTful APIs for policy, billing, claims and customer transactions.  Digital experience must be enabled from the core because this is where the transaction resides. It is a frustrating exercise to create interactions at the front end and then try to push them into the core.
With DXP, EIS clients have several options to choose from for deploying core transactions as digital experience: by consuming RESTful APIs; leveraging SDKs; or using our persona-based apps.
The industry is just now uncovering the broad capabilities of digital and AI. Much, much more is to come. Going to a conference centered on the new technologies – like Dig|In – is an eye-opening way to stay apace. I am a 24-year insurance veteran and I have never seen this level of energy in the industry. Stay tuned. There is more in the digital store.